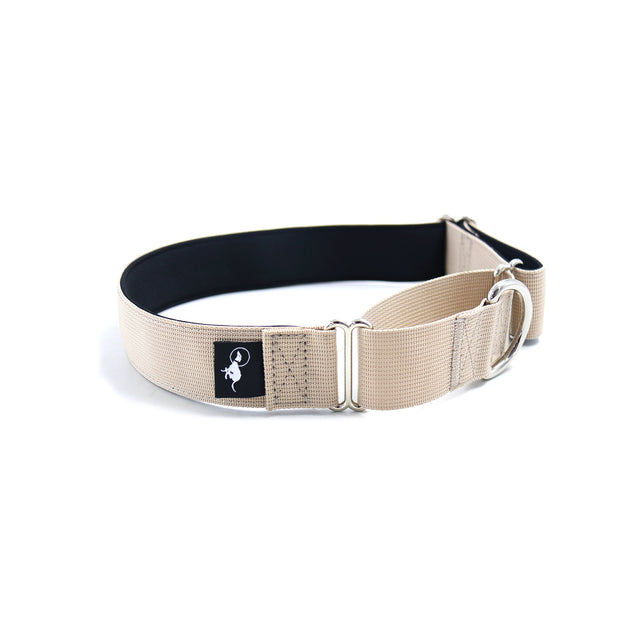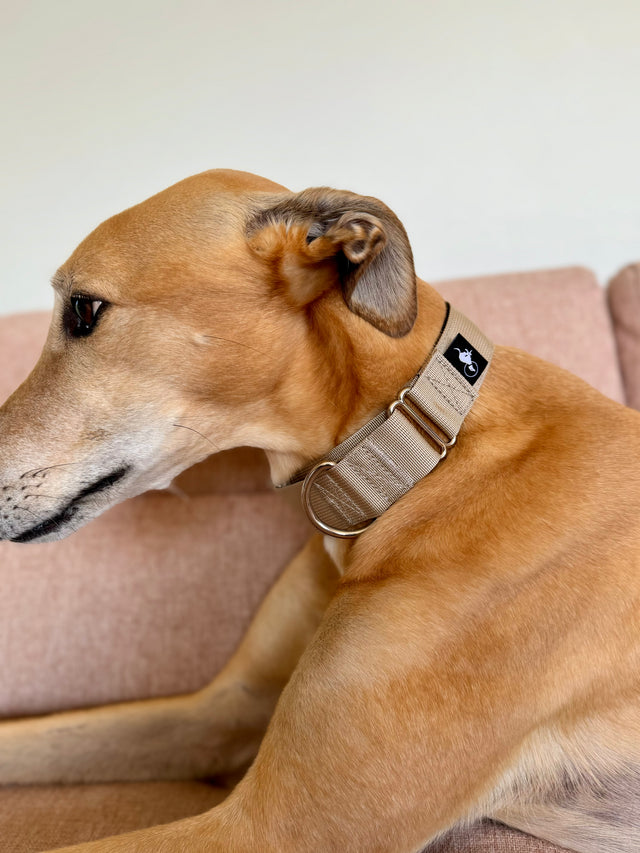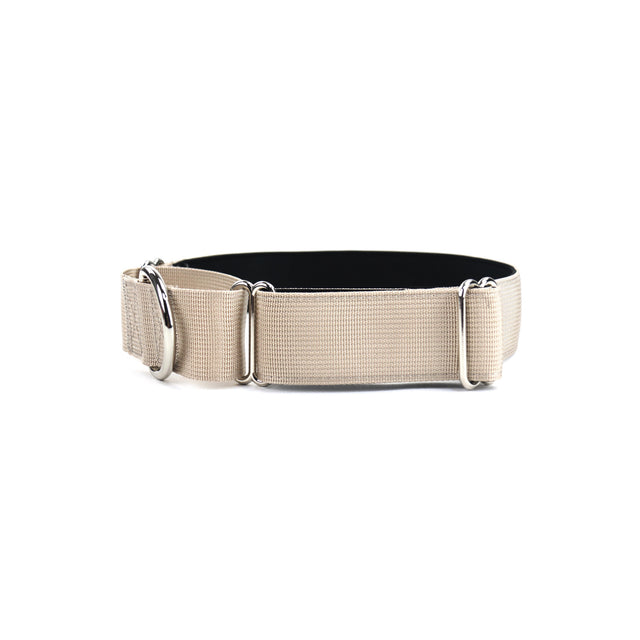 Adventure Martingale Collar - Sand
Comfy, Minimalist, and Strong - Perfect for Adventurous Dogs!
These martingale collars are specifically designed for dogs who love going on adventures! These adventure collars are built to withstand far more wear and tear than our designer collars.
Materials
Crafted from durable polyester webbing, these collars are reinforced with soft and cushioned neoprene padding. The neoprene padding not only adds extra strength but also offers quick-drying, waterproof, and odor-resistant properties.
Sizes
Width: 1.5 Inches/38mm - It's wider than a traditional collar, which offers greater security and comfort.

Medium: 34cm to 50cm - Ideal for Greyhounds, Whippets, Vizsla, Huntaway, Thai Ridgeback, Border Collie, Labradoodles, Giant Schnauzers, Dalmatian, and more.

Large: 44cm to 64cm - Ideal for Golden Retriever, Labrador Retriever, German Shepherd, Wolfhounds, Malamutes, Huskies, afghan hound, Border Collie, Boxer, Dalmatian and other similarly sized breeds..

Dog breeds are given as a guide only. Please measure your dog's neck before purchasing. How to measure? 
Unsure what a martingale collar is?
A martingale collar is a design that helps prevent a dog from slipping, or backing, out of their collar. It's originally designed for sighthounds with narrow heads, such as Greyhounds and Whippets, they can often slip out of buckle collars. Now martingale dog collar is a safe and comfortable option for a variety of dog breeds. They are much gentler than a buckle collar or a choke collar. They only tighten slightly if the dog pulls on the leash and they evenly distribute the pressure without choking the dog. It is also recommended by trainers for improving leash walking. 
For more information about martingale collar, please click here. 
Product Care
Simply handwash in warm water, then put it on a flat surface and air dry.
Frequently asked questions
Can my dog wear a martingale collar all the time?
While martingales can be appropriate for all-the-time wear, however martingales are designed to be used on leash. We recommend to use your martingale collar as a functional dog jacket. You wear it when you go outside, and take it off when you get home.
Are Martingale Collars exclusive to sighthounds?
The answer is no. It's certainly not for all, especially when your pup is very small. However, they're a safe and comfortable option for a variety of dog breeds if it fits properly.
Check out our martingale collars guide for more information.
Will it fit me dog?
Can you customise the collar?
Is there any chance you have Italian Greyhound collars coming up? 
We've got quite a lot of requests on making Italian greyhounds collars. This is definitely something we will look into in the future. Please get in touch so we can gauge the interest.