All leads are made to order! The currently lead time is 7-8 days before dispatched.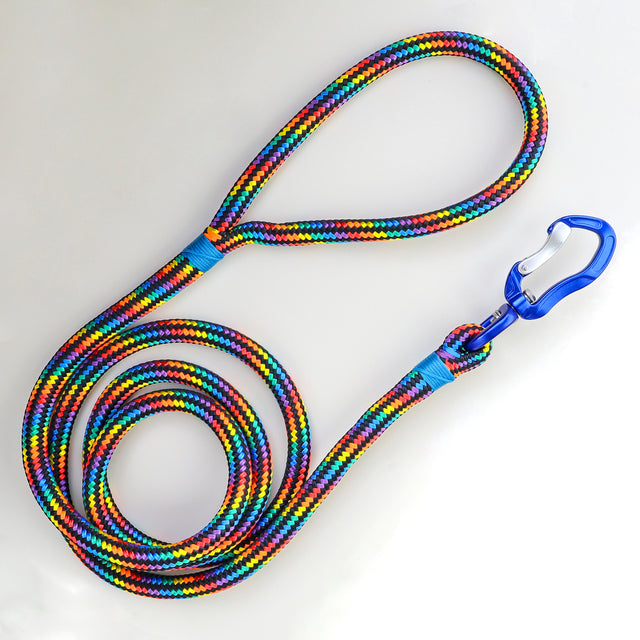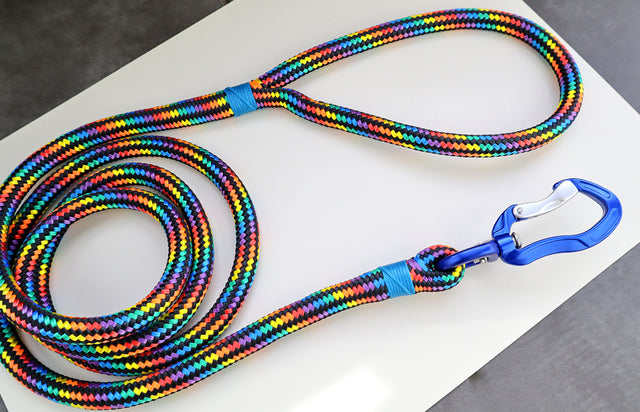 Black Rainbow Rope Leash - Blue
Core Features
Built with traditional splicing techniques straight from the sailing industry, we use the most secure way to connect a rope. There are no knots to get in the way or come undone.
The wrist loop, with its 350mm circumference, comfortably and securely hugs the wrist. It will not slip off like some of those large, padded loops you often see.
The aluminum swivel clip we use is lightweight, weighing only 15 grams. It won't drag your dog's martingale down and won't bounce around like a bell. It's easy to clip on and off, producing a satisfying snap. It rotates smoothly even under heavy load.
Locally-produced Double Braid Ropes
These ropes are crafted with care by our 100% New Zealand-owned ropemaker. With over 60 years of experience in research, rope, and yarn making, they prioritize quality and environmental sustainability. These ropes are made from the finest fibers and are designed to minimize environmental impact.
Why choose double braid ropes? They are the trusted marine standard, featuring a strong inner braid for added strength and an outer cover for durability and resistance to abrasion.
Carabiner Compatibility Notice - PLEASE READ BEFORE PURCHASE
Our standard carabiners are strong and provide complete security when used with our collars, we have become aware of potential compatibility issues with the V-ring on Ruffwear harnesses and smaller dog collars that have thin D/O-rings with a 27mm OD.
For a more worry-free experience when using our products along with Ruffwear harnesses; we highly recommend our trigger clip leads. These leads have the same build and design as our classic leashes, but with a trigger clip that is compatible with every collar and harness we have come across. Rest assured, this trigger clip meets our usual criteria for a reliable and high-quality clip.
Product Care
Rope Leashes are strong and can be very long-lasting if they aren't too heavily abused. Below are some tips and tricks to help with preventative maintenance, and keep your leash long-lived.
Ocean visits: Nothing likes saltwater. It brings death to all things metal. Post beach visits, you can rinse your leash with fresh water, and hang to dry. This isn't necessary, but if your leash is regularly going in the water, it can help prevent any salt build-ups in the rope, keeping it soft.
The carabiner is made of aluminium, but there is a stainless steel spring that holds the gate close. This will need to be rinsed with clean water and dried. It's then best to follow this up with a drop of duck oil or machine oil, or a quick spray of WD40 to displace any residual water.

Storage: Your leash will want to stay out of the sun and rain just like your dog! Keep it inside and out of the weather where possible.
Custom Order
Every leash is handmade, so if like something but isn't the colour or length you want, or it's sold out? Please feel free to reach out through the contact form or message us on Facebook.
Frequently asked questions
I'm interested in buying the leash, just wondering if it's strong enough?
Thanks for the interest! Our leads are built to be strong. The rope and splice would be rated to 1500kg, the carabiner can handle up to 400kg. 
How long of a dog leash do I need?
With a variety of leash lengths available, it's important to understand the benefits of each to ensure both you and your furry friend enjoy your everyday walks to the fullest. We hope this guide can help you select the perfect leash length for your everyday strolls!
What kind of warranty the leash has?
We're just a small home business, so don't have any formal warranty, but we're always happy to help with any issues that might arise. Just get in touch!
Is the leash suitable for my small dog?
We actually made quite a lot of leashes for small breeds like Maltese and puppies and some long lines for cats haha. So far we have really good feedback from small breeds'owners. 
The clips we use can seem quite large, but are very light! Most of our leashes are weighing only around 100 grams. 
Would it be possible to have a clip at each end? Can you make leash with no handle for scent work?
Yes, we can make it happen for you!
Please feel free to reach out through the contact form or message us on Facebook.