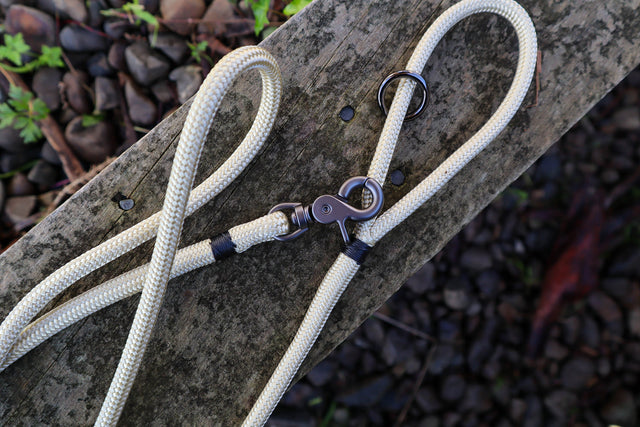 Trigger Clip Rope Leash - Urban
Same build and design as our classic leashes but with a trigger clip. 
Trigger clip - Matt nickel trigger clip, made with Zinc die-cast, weighing 32 grams. 

Most secure way to connect a rope - Built with traditional splicing techniques. No knots to get in the way, or come undone. 
Secure and comfortable wrist loop - It will not slip off the wrist like some of those large, padded loops you often see.
O-ring on the handle
- attach your dog's poop bag or other accessories.
Why double braid ropes? 
The double braid structure is the time-proven marine standard. 
The rope consists of a low twisted compact inner braid, which primarily adds strength and a twisted braided outer cover which provides strength and abrasion resistance to stand the test of time. The outer yarns are folded in the "S" and "Z" directions, then braided so the individual fibres lie in-line with the rope itself. This stops individual fibres catching on any minor protrusions while in use. While the outer cover adds to the strength of the rope, its primary design function is to give protection from the elements. (Reference: Nautilus Braids) 

Product Care
Rope Leashes are strong and can be very long-lasting if they aren't too heavily abused. Below are some tips and tricks to help with preventative maintenance, and keep your leash long-lived.
Ocean visits: Nothing likes saltwater. It brings death to all things metal. Post beach visits, you can rinse your leash with fresh water, and hang to dry. This isn't necessary, but if your leash is regularly going in the water, it can help prevent any salt build-ups in the rope, keeping it soft.

Storage: Your leash will want to stay out of the sun and rain just like your dog! Keep it inside and out of the weather where possible.
Custom Order
Every leash is handmade, so if like something but isn't the colour or length you want, or it's sold out? Please feel free to reach out through the contact form or message us on Facebook.